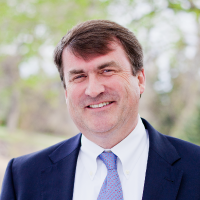 George L. Clark, Jr.
Chairman of the Board
Along with his service as a Trustee of the Trinity Forum, George L. Clark, Jr. is co-founder and a partner of the private equity firm Gerygone Capital in Houston, Texas, a private equity firm focused on investing equity capital in middle market companies and Chairman of Home Interiors, an international direct sales organization. Prior to co-founding Gerygone Capital, George served as Managing Director of the middle market private equity firm, Freestone Partners and President of Northstar Partners, Inc., a consulting firm focused on strategically serving investment groups in North America. He also many years in private equity working for an equity sponsor and several middle-market companies in a variety of positions. George's nonprofit involvement has included leadership positions in Generous Giving, Christ the King Presbyterian Church in Houston, Yellowstone Academy, Houston Christian Foundation, and The Children's Fund of Houston. A graduate of the University of Texas at Austin and a native of Dallas, George and his wife Ashley reside in Houston.