Host Resources
Plan Your Experience
JOG Host Checklist
6 weeks – 2+ months:
Pick a Date and communicate to Generous Giving
Invite your friends (Electronic invitation provided by Generous Giving. Each invitation should be accompanied with a phone call or conversation)
Know that Generous Giving is praying for you! (Specifically for people to say "yes" to the invitation.)
1 month out
3 weeks out
Receive JOG Confirmation Template via email from GG and forward to JOG attendee
2 weeks - 10 days out
Generous Giving will reach out to you to coordinate the shipment of JOG materials. Contact Lindsey Johnson with any questions (lindsey@generousgiving.org or 321-328-1463.)
2 days out
Receive JOG Confirmation Template via email from GG and forward to JOG attendee
Day of JOG
Hand off JOG box to facilitator (if mailed directly to you)
Know that the GG team is praying for you and your group! (For the Lord to show up during the JOG, for distractions to be limited, for people to be open to the message of biblical generosity and for life change to take place.)
On site room set-up:

AC – appropriate temp for the group

Lighting – Locate light switches & learn how to dim lights when videos are played.

Bathrooms - Locate bathrooms so you can communicate location to attendees

Parking – Communicate parking arrangements with attendees (give out vouchers, etc.), if appropriate
Post-JOG
Submit tax form to Generous Giving (optional)
Pray for those who attended your JOG. (That they will continue wrestling with the idea of biblical generosity and that a greater impact will be made on the Kingdom because of their time in the JOG)
Consider hosting a follow-up with your group in the near future
Pick a Date
Choose dates that work for you and your friends!
We recommend two half days (starting at 2:00 PM on day #1 and ending around noon on day #2). This overnight experience creates more margin to allow the message to significantly penetrate the participants' hearts.
Most JOGs take place on Fridays/Saturdays. Logistically, most people can more easily take a ½ day off work (Friday afternoon) than earlier in the week. Also, people prefer to spend their Saturday morning away from home rather than an entire weekend.
Thursday/Friday JOGs are also popular. If those you are inviting have a more flexible weekday schedule, this may be the best option so that they still have their weekends free.
Once the dates for your JOG are determined, contact Generous Giving. We will add your JOG to our master calendar so that we can begin planning and praying on our end. This will also allow us to start looking for an available facilitator.
Find a Venue
Over the years, we have found the ideal JOG size to be 8-14 people. However, if you have a different size in mind, we are happy to talk to you about the number of people you are planning on to ensure the best JOG experience. Please keep your particular group size in mind when identifying your venue and planning meals.

An ideal venue is 60-90 minutes away from where most people live to create a "getaway experience". This also enhances the experience by removing participants from daily pressures and concerns, allowing them to focus on God's personal message. That said, many hosts hold JOGs much closer to home and have fantastic experiences there.
Ideal venues include retreat centers, lake houses, ranches, boutique hotels, beach houses or golf villas.
A venue that feels like a living room is preferable to business style rooms. Chairs or other furniture in a circle is all we need. No tables. This arrangement facilitates a group feeling and greatly enhances discussion. A separate room should be available for meals.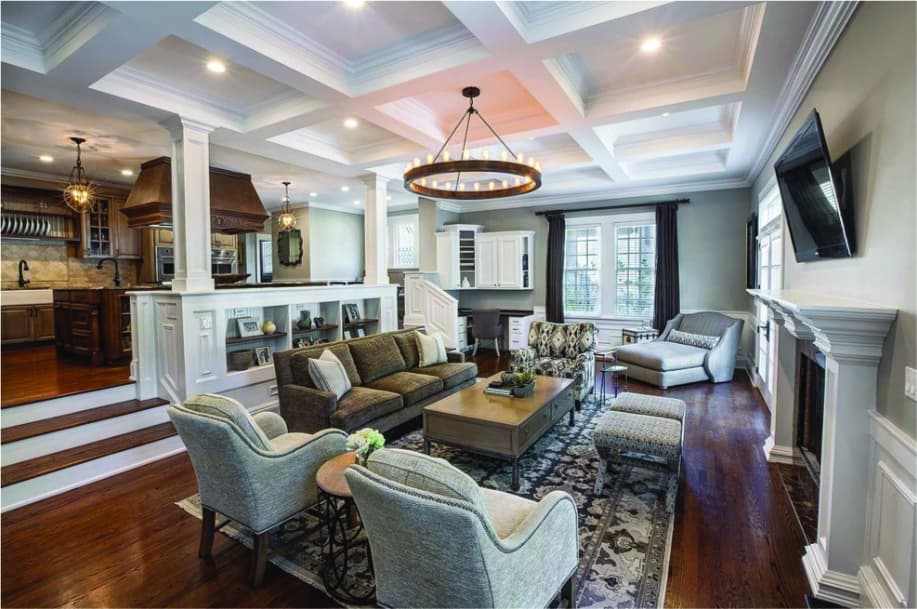 A comfy living room with a central TV.
An inviting lodge family room.
Once a venue is booked, contact Generous Giving with details. At this point, we will provide you with an electronic invitation to send to those you plan to invite.
Typical Schedule
DAY ONE

2:00PM — Session 1
3:45PM — Break
4:00PM — Session 2
6:00PM — Dinner
7:30PM — Session 3
DAY TWO

8:00AM — Breakfast
8:30AM — Session 4
10:00AM — Break
10:15AM — Session 5
Food and Beverage
If your JOG is in a hotel, make sure you ask in advance if the hotel will let you bring in your own drinks and snacks. If so, make sure you locate ice in advance and bring cups and plates with you. If hotel/venue is providing snacks and drinks, make sure they know when and where you would like them set up.
Day 1
Afternoon snacks/drinks (water, soft drinks, coffee, salty and sweet snacks)
Dinner (Food is chosen by the host and should enhance the experience but not be the focus. Most people order catering or prepare food in advance. Length of dinner can affect the JOG timeline if it takes too long. Lingering meals can be nice if planned for, but if you're trying to finish up session #3 after dinner, make sure you end on time. If eating in a restaurant, a buffet is best in the interest of time so that we can get back to the JOG room in order to start Session 3 on time.)
Day 2
Breakfast (continental works well – coffee, juice, danishes, bagels, etc.) Some people choose Panera or Atlanta Bread Co. type places to cater bagels, coffee and danishes.
Morning snacks/drinks (water, soft drinks, coffee, salty and sweet snacks)

Note: some hosts choose to add lunch to begin or end the experience.
Technology
If you'd like to use a iPhone, iPad, or laptop,
VIEW VIDEO DOWNLOAD INSTRUCTIONS
Place TV with HDMI access so that it's visible in the circle. We recommend you have a DVD player with DVDs AND an iPad with an HDMI cable (we're happy to send you both).
NOTE: make sure you bring ALL power cables because they will be needed!
If using a laptop, make sure you have:
Laptop
Laptop to TV Adapter (unless the laptop has an HDMI output)
HDMI cable or AV cable
Speakers (optional - supplemental speakers may be desired)
Auxiliary cable (unless using a Bluetooth speaker)
TV
Lightning Connector - iPad to HDMI
Lightning Connector - iPad to VGA
If using iPad / TV set-up, make sure you have:
iPad
iPad to HDMI (or other AV) connector (either 30-pin or lightning to HDMI adapter – be sure to check iPad's charging port)
HDMI cable or AV cable
Speakers (optional - supplemental speakers may be desired)
Auxiliary cable (unless using a Bluetooth speaker)
TV
If using DVD player and TV, make sure you have:
DVDs
DVD Player
TV
HDMI cable (or other AV cable – depending on the DVD player/TV connections)
If using an Apple TV, make sure you have:
Apple TV
TV
HDMI cable (or other AV cable – depending on the DVD player/TV connections)
If using a projector, make sure you have:
Projector
Speakers
Auxiliary cable (unless using a Bluetooth speaker)
HDMI cable (or other AV cable – depending on the DVD player connections)
iPad adapter for projector (if using iPad)
iPad, DVD player/DVDs, or computer
Materials
Generous Giving will contact you approximately 10 days before your JOG to inquire about materials. Details we need are as follows:
Where to ship the box.
Whether or not you would like pre-printed or blank nametags (or none).
How many workbooks you will need (1 per person).
Which version of the workbook you would like (Generous Giving or if affiliated with NCF, you can choose from the Generous Giving/NCF co-branded version)